Theo tin Boston Children's Museum hay prweb.com
The Inn at Longwood – Boston awarded Best Hotel near Boston Colleges by Fodor's Travel.
BOSTON (PRWEB) MARCH 28, 2018
Fodor's, the leading name in travel guides for over 80 years, has announced that The Inn at Longwood Medical – Boston has been awarded a Fodor's Best as one of the Hotels near Boston Colleges.
Every year, the editors and experts of Fodor's evaluate thousands of hotels across the globe. While every hotel listed in a Fodor's guide is deemed worthy of a traveler's time, only those offering a truly distinctive experience are given the Fodor's Best designation. The Fodor's Best hotel recipients are the best of the best providing a remarkable experience in their category.
As a Fodor's Best recipient, The Inn at Longwood Medical – Boston will receive special recognition on Fodors.com in the Hotels near Boston Colleges list and on Fodors.com which 5 million unique visitors use to plan their trips each month.
"We are grateful to be recognized by a prestigious organization such as Fodors. We appreciate them recognizing our relationship and partnership with our neighborhood Boston Colleges. The staff and I are appreciative and look forward to sharing this award with all of our guests visiting the area schools," said General Manager, Brian Stiglets.
The Inn at Longwood Medical – Boston is located in the Fenway area of Boston. The Inn is surrounded by the Colleges of the Fenway including Emmanuel, Simmons, Wheelock, Wentworth and Mass College of Pharmacy, they are also walking distance to Boston University, Northeastern University, Harvard Medical School and Harvard School of Public Health. The Inn also offers preferred university rates. They are a full-service hotel including a conference center, food court, and The Longwood Grille & Bar restaurant.
About Fodor's Travel
Fodor's Travel has been sharing travel advice and recommendations with travelers for over 80 years and is one of the most trusted voices in the travel industry. Covering over 7,500 worldwide destinations, Fodor's guidebooks and Fodors.com have provided the most up-to-date and accurate information for travelers since 1936. Written by a vast team of global correspondents, Fodor's provides travelers with engagingly written, locally reported, and indispensable travel guidance. Visit http://www.Fodors.com.
###
Photos upon request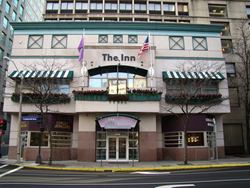 http://www.prweb.com/releases/2018/03/prweb15365367.htm
Note: We are not responsible for typo error, price change, substitute item, or available of item from online ads.