Theo tin google translation Thành phố Boston
Thị trưởng Thành phố Boston Martin J. Walsh Fall Pumpkin Float 2019 tại the Boston Common Frog Pond từ 5 giờ chiều đến 8 giờ tối vào thứ Sáu ngày 18 tháng 10
GRAND OPENING OF WE GROW MICROGREENS' URBAN FARM IN HYDE PARK
October 30, 2019
PUBLISHED BY:NEIGHBORHOOD DEVELOPMENT
BOSTON – Wednesday, October 30, 2019 – Building on his commitment to increasing access to healthy foods and supporting small businesses, Mayor Martin J. Walsh this morning joined the owners of We Grow Microgreens, elected officials, and community members to celebrate Hyde Park's newest small business, which will bring healthy greens to grocery stores, restaurants, and farmers markets across the City. The urban farm was made possible thanks to land made available by Boston's Department of Neighborhood Development and Community Preservation funds.
"I am proud of the City of Boston's commitment to the revitalization of this vacant land, creating a new farm and a new gathering space that all of Hyde Park can enjoy," said Mayor Walsh. "I want to thank the owners of We Grow Microgreens for investing in Readville and their community. The involvement of many partners brought a new business, a new community resource, and a new farm and new life to this empty space."
Ribbon cutting of We Grow Microgreens
Along with an acre of land, Boston's Department of Neighborhood Development (DND) also provided technical assistance to support the revitalization of the property with the greenhouse, hoop houses, and improved public access. The City included a permanent agricultural restriction on the deed to prevent the possibility of future development as anything other than an urban farm. Through its Grassroots program, DND assists those working in their community to increase local food growing opportunities and neighborhood open space.
"We are so grateful to forward-thinking Boston for recognizing the importance of growing food within the City limits," said Microgreens owners Lisa Evans and Tim Smith. "A farm is a significant feature for the City of Boston. We will produce the highest quality microgreens and edible flowers in order to help Boston fulfill its mission of supporting urban farming and increasing access to healthy, locally grown produce."
Last year, Boston awarded $134,700 in Community Preservation funds to We Grow Microgreens to create a public path to mitigate stormwater runoff and connect neighbors to the site. The Community Preservation Fund is capitalized primarily by a one percent property tax-based surcharge on residential and business property tax bills that began in July 2017 after voters adopted the measure in November 2016. The last round of CPA awards in February 2019 funded $34 million to projects across the city, including affordable housing developments and programs, parks and open space, and historic preservation projects consistent with statewide guidelines.
"I am pleased the state can partner with the City of Boston and the Walsh Administration to provide community preservation as well as healthy, locally grown food options for our residents," said State Senator Mike Rush (D-Norfolk & Suffolk District). "It is especially important to identify open space in our communities for such programs to occur."
The Massachusetts Department of Agriculture Resources (MDAR) Urban Farming Program provided $60,000 for the purchase and installation of a commercial greenhouse.
"Massachusetts' Urban Agriculture Program supports farming organizations, such as We Grow Microgreens, to strengthen urban neighborhoods by leveraging opportunities through the production, processing, marketing and sale of fresh food at the local level," said MDAR Commissioner John Lebeaux. "We are thrilled to support community partners invested in creating greater access to nutritious, fresh food."
Mayor Walsh recently released a Food Access Agenda to assess existing food access initiatives and deliver actionable recommendations to fill gaps, including supporting urban farming in the City of Boston. Urban farming gives residents better access to fresh, healthy, and affordable food, while cutting down on transportation costs and carbon emissions. The Agenda will guide the City's work to ensure everyone has equitable access to affordable, fresh, healthy, and culturally-connected foods and end food insecurity in Boston by 2030.
Ribbon cutting of We Grow Microgreens
As part of his 2019 legislative agenda, Mayor Walsh has been advocating for adjusting the surcharge on fees for recording deeds to increase the State CPA match, protecting the Act that more than 170 cities and towns depend on for the creation of affordable housing, open space, and historic preservation. When municipalities voted to enact CPA, they did so with the promise of a substantial state match. This year, the match was just 11 percent with a one-time surplus allotment added, but the CPA bill people voted for is no longer the same bill. The FY20 State budget increases the match, raising an estimated additional $36 million in revenue, putting the state match at around 30 percent and allowing us to invest more in our communities.
About the Department of Neighborhood Development (DND)
The Department of Neighborhood Development (DND) works with communities to improve Boston's neighborhoods through investing public resources. DND's main jobs are to create housing options, support tenants, foster homeownership, end homelessness, and manage the City's real estate.
About the Community Preservation Action (CPA)
After Boston voters adopted the CPA in November 2016, the City created a Community Preservation Fund. This fund is capitalized primarily by a one percent property tax-based surcharge on residential and business property tax bills that began in July 2017. The City uses this revenue to fund initiatives consistent with statewide CPA guidelines: affordable housing, historic preservation, and open space and public recreation. The funding of any project requires a recommendation from the Community Preservation Committee and appropriation by the City. For more information, please visit the Community Preservation webpage.
###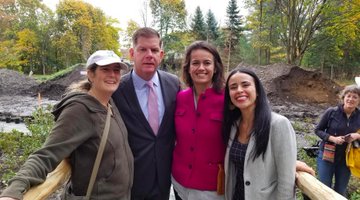 https://www.boston.gov/news/grand-opening-we-grow-microgreens-urban-farm-hyde-park